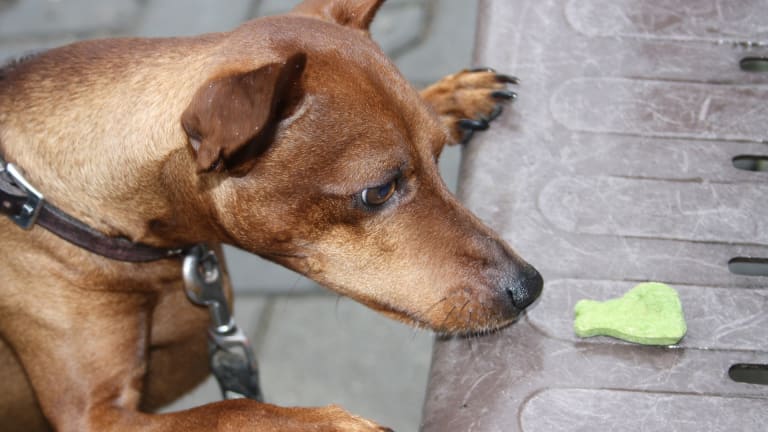 Is it Good to Train Dogs With Treats?
Whether it is good to train dogs with treats is a question that often pops up among dog owners. You may have heard people frowning upon the practices of using dog treats for training, and then you may find others who are deeply enamored with this practice. The truth is, it is not only good to train dogs with treats, but it is most cases actually recommended.
To know whether it is good to train dogs with treats, it helps to firstly understand how the canine mind works and the role treats play in a dog training. 
The truth is, dogs can be easily trained to do the most amazing tricks if only the owners know a bit about dog psychology.
 All it really takes is to think as a dog and think about what keeps a dog's interest alive and well focused. If dogs could talk they would readily respond that treats are the most wonderful invention on earth and that they win top spot as the most cherished reward. 
The Power of Tasty Morsels 
With their noses equipped with over 200 million receptors, it is no wonder why dogs drool at the simple sight of food. Training sessions, therefore, become a very look forwarded to event when a pocket or treat bag is full of special treats.
When treats are used with wisdom, they work wonders in training. Treats provide enthusiasm and motivation, they help gain strong interest in cues that otherwise may appear repetitive and dull to a dog's eyes. 
Working for a treat brings dogs back to the old days where they had to work for their food by hunting and stalking their prey. It activates the seeking system of the brain leading to an increase in the dog's dopamine levels. Intrigued? Discover what dopamine does to dogs. 
This is vital to a dog's mental wellbeing as their bodies and minds were designed for seeking.
Use in Operant Conditioning
 Life is about consequences when it comes to dog training, but that can also apply to our world as well. 
If we take a look at life, we will notice how many things we do are driven by consequences. If we go to work, we get paid, if we put on mosquito spray we make mosquitoes go away, if we make many mistakes, we fail a test, if we are rude to customers, they may leave and perhaps even never come back again.
In other words, things happen because we do things, we basically "operate." 
Dogs, just like people, learn too about the relationship between their actions and their consequences. In the world of learning theory, this is known as "operant conditioning" that is, learning (conditioning) based on the ways we "operate." 
Thorndike once said: "responses that produce a satisfying effect in a particular situation become more likely to occur again in that situation."
In simply words, if every time your dog sits, you give him a treat, rep after rep, you dog will become more and more likely to sit in the future. 
Use in Classical Conditioning
In classical conditioning, a stimulus signals the occurrence of a second stimulus. The father of this form of learning is Russian scientist Ivan Pavlov. 
In a study on digestive processes, Pavlov stumbled upon this "phenomenon" when he was evaluating the role of a dog's salivary glands. He employed several dogs for his experiments, and as good drooling machines, you can bet that the dogs were salivating abundantly at the sight of food. Intrigued? Discover 9 fascinating facts about dog saliva. 
 This normal, natural response is referred to as an "unconditioned response." The dogs, indeed, did not have to learn to drool at the sight of food because this is an innate, reflexive, physiological response.
As time went by, Pavlov noticed that the dogs started salivating even when no food was in sight. Indeed, they were drooling at the simple sight of any person wearing a lab coat! How did this happen?
 The dogs simply learned to associate the people working there with food. To further prove these associations, Ivan Pavlov started ringing a bell before feeding food, and not surprisingly, with time, the noise of the bell alone had the dogs drooling.
Back to using food for dog training, we can say that to a dog, the clicking noise of a clicker means nothing initially (it's therefore a neutral stimulus), but after pairing it with treats, the clicking sounds becomes paired with treats eliciting what's known as a  conditioned response. 
It Takes Two to Tango! 
As seen, we have two powerful learning processes at our disposal we can rely on when training dogs and food plays an integral role in it. The best part is that, when you use treats to train your dog to perform a desired behavior (operant conditioning), a good level of classical conditioning occurs simultaneously as well. 
 "Pavlov is always on your shoulder," goes a famous saying that Bob Bailey is often quoted for. In other words, as you give your dog a treat to reinforce the behavior of  sitting nicely (operant conditioning), your dog is also forming many positive associations (classical conditioning) with training such as you standing there, the location you are training, your voice and hand gestures, and your clicker, if you are using one.
Victim of a Bad Rap 
 Too bad that treats are often frowned upon. You may hear some people make remarks such as "when you use treats, you bribe your dog" or "treat make dogs fat and lazy" or people refer to dog trainers using treats as "cookie trainers" often complaining that treats can't be used to work on serious issues such as dealing with aggressive dogs or when a dog escapes the yard. 
The truth is, the use of treats in dog training can turn problematic, but only if you fall into the trap of making some big mistakes. Let's take a closer look at these potential mistakes and how to prevent them. 
Using Treats as Bribery 
 In a bribery scenario, your dog develops an over-reliance on the visual appearance of treats- but this is a mistake on your side not his.

Do Dogs Like Salty Skin?
Whether dogs like salty skin is something many dog owners may wonder about. Until dogs can talk, we can only make some assumptions. Discover what we know so far.
Where is the Stop on a Dog's Head?
If you're looking for the stop on a dog's head, you'll need to look at the head correctly and have a dog breed blessed with this feature.
This happens when you are consistently presenting the food before your dog engages in the wanted behavior. The food lure becomes a bribe when you are basically communicating to your dog: "Hey dog, you see this treat? If you sit nicely, you can have it!"
Often dog owners fall into this trap when they use treats as a lure to get their dogs to sit or lie down. There's nothing wrong with this really, the problem is when the lure is not faded quickly enough. 
Paul Owens, the original Dog Whisperer, (yes he was the very first to call himself this way!) in his book "The Dog Whisperer: A Compassionate, Nonviolent Approach to Dog Training" described a bribe as a food "lure gone astray."
What is likely happening here is that the presence of food has become the most salient prompt, the most important piece of information telling the dog what to do. Without, it, the dog is lost without the aid, just as a child deprived of arm floaters, has no clue what to do to stay afloat.
Basically, the food lure has become a long-term part of the antecedent cue, explains Kelly Gorman Dunbar on Dog Star Daily. The food is telling the dog exactly what to do and the dog overly depends on it. Regardless of what is truly going on, one thing is for sure we want to prevent this form of "over dependence.'
How to solve it: fade the food lure by using an empty hand to make your dog sit or lie down. Once he sits or lies down, praise and treat your dog using your other hand to deliver the treat. More info on this can be found here: How to fade a food lure in dogs training.
Too Many Calories
Yes, too many treats can make your dog fat and they may also spoil your dog's appetite. In particular this applies to small dogs and puppies who get filled up quickly with just a brief training session where too many treats are doled out. 
To reap the benefits of reward-based methods, you will therefore have to find a way to balance the administration of treats given out during your training session with your dog's daily intake of calories.
How to solve it: Fortunately, there are several wise strategies you can use to get around this problem, and it may take some experimenting, however, as the saying goes, when there is a will, there is a way. For more info on this read my article: How to train your small dog with treats without spoiling his appetite or watch the video below.
Not Effective for Difficult Cases
You may often hear dog owners make statements such as; treats won't work for my dog when he is aggressive, or treats don't work to help my fearful dog or getting my dog to come back to me when she's escaping. 
Well here is a big fact: treats work wonderfully for these cases, only that you will need to skill and knowledge to reap the benefits.
High-value treats work wonderfully in behavior modification for fearful or aggressive dogs because with the use of them, you are working at a deep physiological level, creating positive associations and changing the dog's emotions as well. 
They also work greatly for recalls, in getting dogs to come back when escaping or getting out of some sticky situations. You only need to learn how to gradually increase your dog's responsiveness in spite of strong distractions. 
How to solve it: learn how to read your dog's body language and early signs of stress so that your dog is more responsive. I now mostly work on most aggression or fear cases with the use of high-value treats, it only takes working with these dogs under threshold until they are more comfortable in taking treats and going slow and gradual in their exposures through desensitization and counterconditioning techniques. 
For increasing responsiveness in life situations in the "outdoor, real world" treats are your best friend if you wisely expose your dog gradually to increasing levels of distractions. Consult with a dog trainer or behavior consultant for help in challenging cases.
Being Stuck in Always Giving Treats
It's a common misconception that you will always be stuck carrying treats. Once a behavior is fluently learned, it can be alternated with other forms of rewards.
Treats though should never be stopped once and for all as that risks the dog defaulting to a less enthusiastic response or even stop responding altogether. 
Treats should also be resumed temporarily when the training you have carried out in quiet settings (like at home) will be asked in areas with more distractions (such as on walks) at least until you gain a fluent response in such settings as well. 
How to solve it: As your dog responds fluently to a behavior in a certain setting, every now and then provide happy praise or access to a toy in lieu of treats. You can also use life rewards such as rewarding your dog for sitting by opening the door to the yard if he loves exploring there or attaching the leash to his collar if he loves going on walks. 
The Bottom Line 
Dogs deserve treats for a job well done and I am sure if dogs could talk they would be agreeing fully with such statement. Rewards are tasty gifts and the aftermath of a dog's attentive response. 
There is no better way to say "thank you" to a dog, than by handing a mouth watery treat, and this perfectly makes sense. After all, even humans would be reluctant to go to work if they were not paid!
Treats may therefore work wonders in training. Treats provide enthusiasm, motivation and interest to cues that otherwise may appear repetitive and dull in a dog's eyes. Working for a treat brings dogs back to the old days where they had to work for their food by hunting and stalking their prey so they are wonderful aids for their emotional wellbeing.