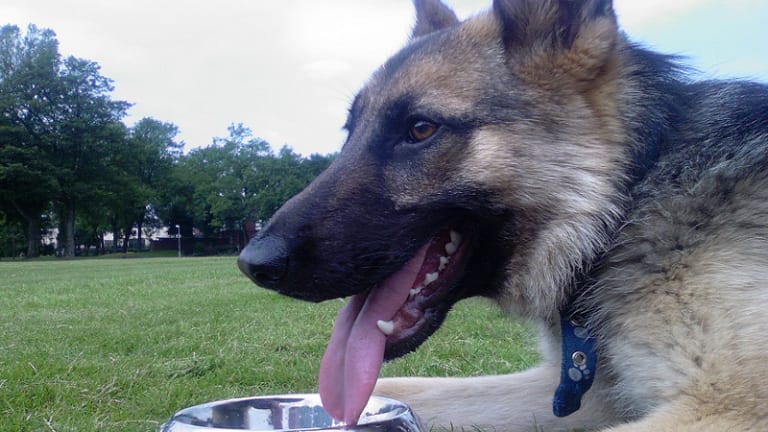 Maropitant, Cerenia for Dog Vomiting
Cerenia for dog vomiting is a medication that your veterinarian may have prescribed for your dog. Still as of today, vomiting remains one of the primary reasons dog owners bring their dogs to the vet. This fairly new drug has been very helpful in dogs suffering from acute vomiting due to several underlying conditions causing more and more vets to prescribe it.
If your dog is vomiting, you may find it useful learning that maropitant (Cerenia) for dogs who are vomiting is a drug that is gaining more and more popularity.
Still as of today, vomiting remains one of the primary reasons dog owners bring their dogs to the vet. While there are many options for people suffering from an upset stomach, not always these drugs are suitable or approved for use in dogs. 
This fairly new drug instead has been very helpful in dogs suffering from acute vomiting due to several underlying conditions and more and more vets are reaching out for it.
Maropitant, Cerenia for Dog Vomiting
Maropitant citrate, also known as Cerenia, has been used now for quite some time to provide relief to dogs who are vomiting because of several underlying conditions.
 In dogs suffering from motion sickness, maropitant has been show the ability to reduce dog car sickness by about 86 percent when given before travel.
On top of car sickness, Cerenia has turned helpful in managing vomiting in dogs suffering from a multitude of digestive problems as it happens with pancreatitis, gastroenteritis, parvovirus, kidney failure, pyometra, intestinal blockage, vestibular disease, cancer etc.
Cerenia is often given to dogs prior to surgery. Many dogs have a tendency to vomit after they receive opioid drugs for dog pain relief. Opioid drugs are often given as a pre-anesthetic and can cause nausea, vomiting and a reluctance to eat after surgery when dogs are sent home. 
According to a study, it was found that dogs given Cerenia before surgery returned to eating normally faster and ate more food than dogs given a placebo.
This drug has also been used to provide relief in dogs undergoing chemotherapy for cancer. While vomiting in dogs after chemo may not be as common as in humans (just think that roughly 80 percent of dogs do not have side effects from chemo), some dogs may benefit from the use of anti-nausea medications such as Cerenia, metaclopromide (Reglan), mirtazapine, or Zofran.
Did you know? Cerenia is so far the only FDA-approved anti-vomiting drug for use in dogs and cats.
Dosage of Maropitant (Cerenia) for Dogs
The best way to help a dog who is anticipated to feel nauseous, is to have the vet give the dog a Cerenia injection or provide pills to be given by mouth. 
The injection is the best option for dogs who are actively vomiting and struggle taking anything by mouth as this assures that the dog gets to absorb the full initial dose. 
The general directions and dosage of Cerenia for dogs varies depending on the dog's age and circumstance. 
For instance, in puppies that are 2 to 7 months old, they can be given Cerenia for up to 5 days, while in dogs older than 7 months, it can be given as needed until the vomiting has stopped.
According to Cerenia's Package Insert, Cerenia is given at a minimum dose of 2 mg/kg (0.9 mg/lb) for prevention of acute vomiting; whereas, for prevention of motion sickness for dog 4 months or older it is given at a dosage of 8 mg/kg (3.6 mg/lb) at least two hours before travel. 
Consult with your vet for proper dosing instructions as directions may vary based on individual cases such as age.
Caution: As tempting as it may be to hide the pills in fatty foods like, cheese, hot dogs, sausage or pill pockets, the company recommends to avoid this as it can prevent the medication from properly dissolving which may cause delays in its effect.
Maropitant  (Cerenia) Side Effects in Dogs 
Normally, Cerenia is well tolerated, and even healthy dogs receiving doses up to three time the recommended dose didn't manifest adverse effects. However, as with any drugs, Cerenia can cause side effects in dogs.
Cerenia should be used with caution in puppies who are younger than 4 months because of the potential for bone marrow hypoplasia (decreased blood cell production from the bone marrow). This drug must also be given with caution in dogs suffering from underlying liver problems or heart disease. 
The most common Cerenia side effects in dogs where noted when the drug was given in high dosages. These side effects included drooling, diarrhea, blood in the stools, retching, weakness, appetite loss, tremors and flatulence.
 The injectable form of Cerenia is known for stinging a bit when given, but when the injectable form is kept refrigerated, it should lessen the stinging significantly, explains veterinarian Dr. John.
"A higher frequency of bone marrow hypoplasia (less than normal cells in the bone marrow) was seen in younger dogs taking maropitant. Even in adult dogs it's best to stop dosing after 5 days." Dr. Michael Salkin, veterinarian
References:
Conder GA, Sedlacek HS, Boucher JF, Clemence RG. Efficacy and safety of maropitant, a selective neurokinin 1 receptor antagonist, in two randomized clinical trials for prevention of vomiting due to motion sickness in dogs. J Vet Pharmacol Ther. 2008;31(6):528-532.
Hay Kraus BL. Efficacy of maropitant in preventing vomiting in dogs premedicated with hydromorphone. Vet Anaesth Analg. 2013;40(1):28-34.
Cerenia.com:"Treat and prevent your dog's vomiting."
DVM360: Maropitant: A novel treatment for acute vomiting in dogs