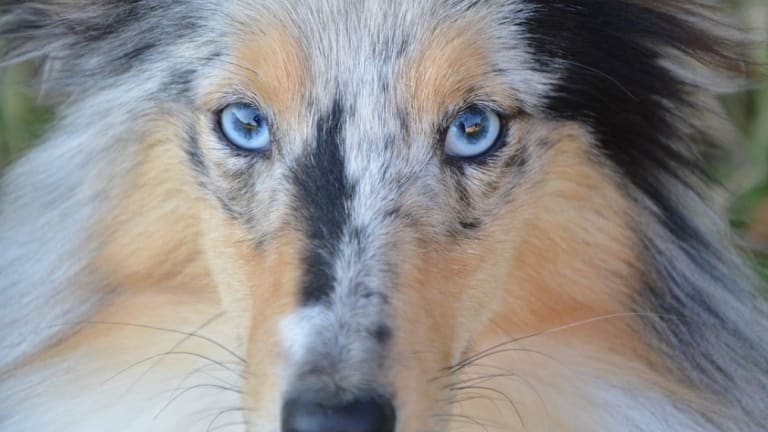 Eye Defects in Merle Dogs
The eye defects in merle dogs can be several. This is something perspective dog owners should be aware about before considering adopting a dog with this coat pattern. Breeders should be aware of these problems too considering the many risks of breeding dogs with these coats. Veterinarian Dr. Ivana shares several eye defects in merle dogs.
The merle coat pattern, although strikingly beautiful, comes with a series of eye abnormalities, from starburst pupils to differently sized eyes.
However, the merle gene affects more than the eyes' appearance. Merle dogs often experience vision deficits ranging from mild sight impairment to complete blindness, depending on the exact defect.
This article will look at the most common eye abnormalities in merle dogs – their clinical manifestation, consequences, diagnosis, and potential treatments.
Eye Anomalies in Merle Dogs 
Before we start reviewing the eye anomalies, we should say a word or two about the merle gene – the culprit behind the beautiful coat pattern and concerning eye defects.
Namely, the merle gene is a dilution gene responsible for making the coat and eyes lighter and more brightly colored. The problem is that the same merle gene is also responsible for a myriad of eye abnormalities.
Dogs carrying one merle gene may not develop or exhibit any signs of eye problems. However, dogs that have inherited two copies of the merle gene (one from each parent) are at immediate risk of severe eye anomalies.
The merle gene has been reported in many dog breeds, including the Rough and Smooth Collies, Australian Shepherd, Shetland Sheepdog, Dachshund, Great Dane, Old English Sheepdog, American Foxhound, and Catahoula Leopard Dog.
Vet tip: Having a merle dog does not always equal eye issues, but in most cases, it does. If your dog is merle, you need to have its eyes examined by a veterinary ophthalmologist. This is because not all merle eye defects are visible from the outside.
The Most Common Eye Anomalies in Merle Dogs
There are several different eye defects occurring in merle dogs. To make things more complicated, more often than not, there is more than one defect present simultaneously.
1: Blue Iris
Blue iris is the most benign defect associated with the merle gene. In fact, it is not even an actual defect as it does not cause any visual issues besides its unusual appearance.
The light blue coloration of the eye can affect the entire eye or appear as a partial inclusion to an otherwise light or dark brown eye. When the blue segment seems to be included in a brown eye, it is medically termed heterochromia iridis.
Like people, dogs with blue eyes can be a bit sensitive to light, but they do not experience more severe issues. Therefore, the blue iris and heterochromia iridis do not warrant treatment.
2: Microphthalmia
Microphthalmia is the most common eye defect occurring in merle dogs. The medical term microphthalmia literally translates to "small eye." 
Simply put, in dogs with microphthalmia, one or both eyes will be smaller than they should be.
The severity of microphthalmia is variable – some dogs can have slightly smaller eyes, and in others, the size difference will be striking. Sometimes, if the eye is tiny, it will look like there is no eye at all.
The decreased eye size is accompanied by other issues. For example, the smaller the eye, the more likely it is for the third eyelid to protrude. In such cases, the third eyelid will cover the eye and impair vision. Depending on the case, the vet may recommend surgical correction of the third eyelid.
3: Microcoria
Microcoria is another potential merle eye defect. The condition manifests with small-sized pupils. The pupil size is typically regulated by its dilator muscles. In dogs with microcoria, the dilator muscle is underdeveloped and cannot modify pupil size.
Microcoria results in varying levels of vision deficits and is usually accompanied by other congenital eye defects, and even if present alone, it dramatically increases the risk of developing other issues later in life. The most common complication is glaucoma.
Sadly, there is no known treatment for congenital microcoria. However, dogs that have developed glaucoma secondary to microcoria need proper management plans for keeping the intraocular pressure within the normal range.
Defect number 4: Colobomas
Coloboma comes from a Greek word that translates to "curtailed." The term coloboma is used to indicate eye conditions in which tissues in or around the eye are missing. Simply said, coloboma is a hole in one eye structure.
Colobomas or eye wholes can be present in different eye structures, including – iris, retinal, choroid, and optic disc. The consequences of colobomas depend on their size and their location within the different eye tissues.

Why is My Dog Licking My Ears?
Dogs lick your ears because they must find the activity somewhat reinforcing. Discover several possible reasons behind this " ear fascination" in dogs.
Do All Dogs Have an Occiput?
Whether all dogs have an occiput is something that many dog owners may be wondering about. Yes, we're talking about that prominent bump on a dog's head.
The most commonly reported merle-related colobomas affect the iris. The iris coloboma manifests as a notch or cleft at the edge of the pupil. It basically looks like the pupil is leaking and covering one portion of the iris.
As with most conditions on this list, there is no direct treatment. The esthetic aspect of the condition can be surgically corrected, but it will not contribute to vision improvement.
Defect number 5: Night blindness
Night blindness is a condition developing from retinal degeneration. Retinal degeneration is an age-related condition, and virtually all dogs develop it at some point. However, merle dogs can have night blindness much earlier.
The condition is called night blindness because it causes vision deficits (blurry sight and inability to see distant objects) during nighttime or in environments with dim light. Night blindness is also associated with severe headaches. Night blindness is not treatable.
Defect number 6: Corectopia
Corectopia indicates subluxation of the pupil. Namely, instead of being positioned in the center of the iris, the pupil will be dropped by the edge of the dog's iris. The good news is that corectopia does not directly affect the vision.
Considering the type of this defect, there is no available treatment for repositioning the pupil back. However, if some of the accompanying defects are causing vision issues, we recommend talking to a vet ophthalmologist.
Defect number 7: Cataracts
Double merle dogs are frequently diagnosed with cataracts. Cataracts are defined as lens clouding and have a progressing nature. This lens clouding is an insidious condition – it does not cause any striking eye changes until advanced.
Cataracts can be partial or affecting one part of the eye or complete if affecting the whole lens. Even partial cataracts will progress given enough time. Cataracts always result in vision impairment, and if left untreated, it always results in blindness.
The only solution for cataracts is surgery. In humans, cataracts surgeries are considered routine and performed effortlessly. There are more considerations regarding this procedure in dogs, so it is best to talk to your vet about the pros and cons of the correction.
8: Persistent Pupillary Membranes
Persistent pupillary membranes (PPMs) can occur in some merle dogs. The pupillary membranes are an eye structure present during the early uterine eye development. After birth, during the first few weeks of life, the membranes regress.
Persistent pupillary membrane is the term used to describe the condition in which the pupillary membranes fail to regress and remain present throughout life. The pupillary membranes commonly arise from the iris collarette and attach to other iris structures or the lens or cornea.
The consequences of PPMs depend on where the membrane's remnants attach – if they link to other iris structures, the dog's vision can be normal. However, if connected to the lens, there will be some level of vision impairment.
There is no established treatment for persistent pupillary membranes. Cataracts often accompany PPMs, and in cases of severe lens clouding, it is recommended to talk to your vet about surgical corrections.
 9: Starburst pupils
Starburst pupils or jagged pupils are pretty prevalent in merle dogs. The term is self-explaining – the pupil has sharp and protruding spikes. Typically, the edges of the pupil are round and well-defined. In this case, the edges of the pupils are blurry, irregular, and spiked or jagged.
Merle dogs can have starburst pupils in one or both eyes. The changes in the standard pupil shape will result in various levels of light sensitivity or lack thereof. Sadly, there is no surgical or medical approach for managing this congenital eye defect.
Defect number 10: Retinal dysplasia
Retinal dysplasia (RD) indicates irregular or underdevelopment of the retina. As a result, there will be retinal folds or medallion-shaped lesions in the retina. The retinal folds do not progress and usually affect both eyes.
Sometimes the retina folds are benign and do not impair vision. However, if the fold is too big and affects the entire retina, the condition will also manifest with a certain level of vision deficit. Plus, prominent folds can cause retinal detachment and end up triggering blindness.
Retinal dysplasia does not cause physical changes to the eye, and diagnosing the condition requires eye examination with an ophthalmoscope. Same as most merle eye defects, retinal dysplasia is a non-treatable condition.
Concluding Thoughts 
Sadly, there are not many treatment options for merle dog eye defects. Therefore, and because of the potential severity of these eye defects, the accent should be put on prevention.
The good news is prevention can be easy – informed and responsible breeders will never include affected dogs in their breeding programs. This is because even mildly affected merle dogs can give fully blind offspring.
The general rule of thumb is that every dog entering a breeding program should have its eyes evaluated by a veterinary ophthalmologist. The golden standard of eye evaluation is the OFA Eye Certification Exam.