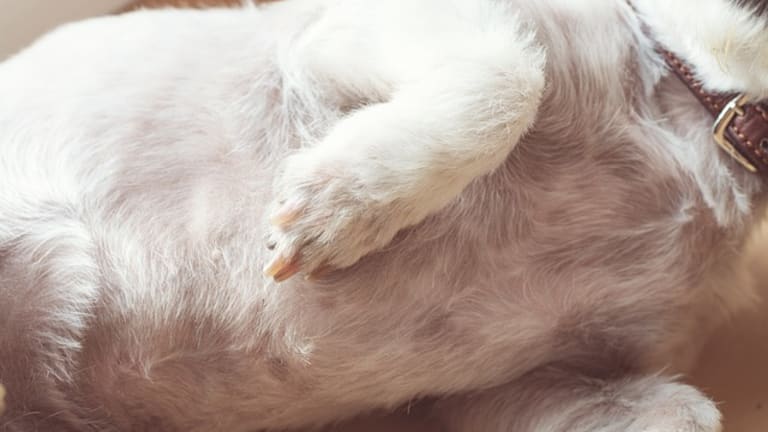 Dog Blackheads: Here's What Vets Say
Dog blackheads are not very common. While blackheads are quite popular among humans, in dogs they are not commonly seen. If you are unsure of what skin condition your dog has, you may be treating it improperly which can make matters worse. This is why it's always best consulting with a vet, to determine exactly what is going on.
Dog blackheads are not very common. Indeed, among humans, blackheads are quite popular while blackheads in dogs are not commonly seen, which explains why many dog owners are left wondering whether their dog has blackheads or if they are perhaps dealing with a completely different skin condition.
 Blackheads, also known as comedones, are usually the result of clogged hair follicles, but since a dog's skin is much different than human skin in many ways, it's important to understand whether dogs get blackheads or not.
 If you are unsure of what skin condition your dog has, you may be treating it improperly which can make matters worse. This is why it's always best consulting with a vet, to determine exactly what is going on.
Dog Blackheads from Acne
In case you were wondering, dogs can get acne too and the acne may be accompanied by blackheads. 
The formation of acne in dogs is quite different from human acne.
In dogs, acne consists of the inflammation of a dog's hair follicles and it mostly limited to chin and lips of young dogs.
 Blackheads on the chin are often the first lesions to be noticed by dog owners.
Dog blackheads are the result of dilated hair follicles getting plugged by excess keratin and they often can be accompanied by pustules and firm nodules.
If your dog's blackheads are therefore limited to the chin and lip area, you are likely dealing with a case of doggy acne. 
See your vet for proper diagnosis though as there are other skin conditions that may mimic dog blackheads and require a completely different treatment!
Treatment for Dog Acne 
What to do if your dog has canine acne along with unsightly blackheads? Treatment for dog acne with blackheads on the chin often consists of topical products containing benzoyl peroxide.
If you are thinking about using common benzoyl peroxide products made for treating human acne, think again. Dogs have different skin than humans, and therefore products made for human acne are way too strong, warns veterinarian Dr. Rosanna Marsalla.
See your vet for appropriate products purposely made for treating blackheads in dogs. You will often need a prescription for such products.
Severe cases may need further medications such as antibiotics or steroids meant to treat any swelling or secondary bacterial infections that may set in.
In some cases though, steroids may be an underlying cause of thin skin, thin hair coat and blackheads in dogs, explains veterinarian Dr. Ernest Ward in an article for VCA.
"Acne is most common in short coated breeds with Boxers, Great Danes and Doberman pinschers being especially prone. Lesions include comedones, papules, pustules, nodules and furuncles on the chin, lips and muzzle."~Dr. Wayne Rosenkrantz, veterinary dermatologist.
 Dog Blackheads Due to Oil Overproduction
If blackheads are present in other places of your dog's body, other than the chin and lip area, there are chances you are dealing with excessive oily skin. While the purpose of oil on a dog's skin is to lubricate, too much of a good thing produces problems.
For instance, if your dog has blackheads on his back or your dog has blackheads on his belly, you are likely dealing with excessive production of oil from the dog's sebaceous glands. 
These comedone-like growths may be becoming infected and appear as if they were black heads, explains veterinarian Dr. Loretta.
Since oil glands are mostly concentrated, along the dog's tail-head, back line, ventral chest and around the prepuce area, these are the areas where blackheads are often concentrated.
A shampoo containing benzoyl peroxide may help treating dog blackheads, and a common one that vets prescribe goes by the name of Oxydex.
If the glands are infected, antibiotics may be needed. Benzoyl peroxide helps considering that it provides follicular flushing action.

Different Types of Pain in Dogs
There are different types of pain in dogs and differentiating one from another can help you better understand your companion.
"Facial acne in dogs usually responds well to frequent cleaning with a benzoyl peroxide cleanser. Pimples or blackheads elsewhere can be a symptom of a bacterial skin infection or seborrhea."~Dr. Betsy Brevitz, veterinarian.
A Problem with Schnauzers
If the blackheads appear on a schnauzer or miniature schnauzer, there are chances that the blackheads you are seeing are actually schnauzer bumps.
Also known as schnauzer comedone syndrome, these typical bumps are found on the back and rump of this breed.
These bumps are often itchy and they can have red pustules and scabs along with the blackheads.
In this case, the dog's hair follicles are dilated and end being plugged with keratin and oil. The bumps may go unnoticed for a while until the dog is clipped and then they become more evident. The skin may be greasy and predisposed to inflammation and secondary infections.
There is belief that comedone syndrome in schnauzers is a hereditary condition considering that it occurs only in this breed. Picking reputable breeders who selectively breed specimens not prone to this skin problem, is important.
As in other cases of dog blackheads, treatment consists of using prescription benzoyl peroxide products. Albeit these will not treat the problem, they can help manage this condition keeping it at bay. 
If secondary infections are present, your dog may require a course of antibiotics to take by mouth for a few weeks.
Importance of Seeing the Vet
There are many skin conditions in dogs that can easily look alike, which is why many veterinarians suggest getting a skin scrape, cytology (microscopic exam looking for abnormal numbers of bacteria and yeast), a fungal culture, and sometimes blood work too.
Blackheads in dogs can also form because of some underlying medical conditions such as problems with hormones, various skin diseases and allergies.
Blackhead Look-a-Likes in Dogs 
Is it a blackhead or something else? There are several skin conditions that a layperson can easily confuse with blackheads. Here are just a few examples. 
Demodex Mites
Black spots on a dog that look like blackheads can be due to the presence of demodex mites (demodicosis), which are mites that are commonly present on the dog's skin but that proliferate and get out of hand when the dog's immune system weakens, explains veterinarian Dr. Kara.
Hormonal Issues 
Other possibilities include skin complications as a result of low thyroid levels (hypothyroidism) or the overproduction of glucocorticoid (hyperadrenocorticism) which are both conditions more commonly seen in older dogs.
Lentigines 
In some cases, the black spots may just be natural pigmentation. In this case, the black spots are known as lentigines (freckles). Lentigines in dogs are typically found exclusively around the dog's belly, according to the book "Skin Diseases of the Dog and Cat: Clinical and Histopathologic." 
These natural spots do not require treatment, but are worthy keeping an eye on in case they undergo changes.
Flea Dirt 
Dogs heavily infested with fleas usually have flea dirt incorporated in their hairs. At a glance, the flea dirt may resemble blackheads, explains veterinarian Dr. Ivana Crnec. Discover how to rule out flea dirt in dogs. 
Never Squeeze Dog Blackheads!
As seen, there are several possible skin conditions in dogs that may mimic dog blackheads, and sometimes blackheads in dogs stem from underlying problems. 
As much as you may feel tempted into squeezing your dog blackheads, it is best if you refrain yourself from doing so. Your dog may have a another skin condition and squeezing them may lead to a skin infection. Consult with your vet for proper diagnosis and treatment.
Did you know? Comedones, are also known as blackheads due to the curious fact that, once the oily buildup is exposed to air, it oxidizes turning into its distinct black color.
References:
Kraft I & Frese K (1976) Lentigo-like proliferations of the teat epithelium in the dog. Zentralbl Veterinarmed A 23(3):234-247
DVM360: Localized keratinization syndromes (Proceedings)
The Complete Healthy Dog Handbook: The Definitive Guide to Keeping Your Pet Happy, Healthy & Active Through Every Stage of Life by Betsy Brevitz, Workman Publishing Company; 1 edition (April 16, 2009)
Photo Credits:
Blausen.com staff. "Blausen gallery 2014". Wikiversity Journal of Medicine. DOI:10.15347/wjm/2014.010. ISSN 20018762