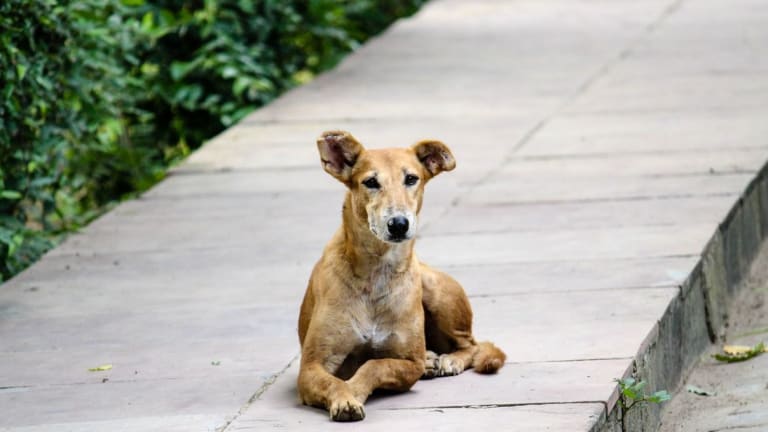 What Causes Cauliflower Ear in Dogs?
Cauliflower ear in dogs may sound like something really odd, but veterinarians are very familiar with this term as they have seen several affected dogs with this condition during their career. As a dog parent, you should be also familiar with the cauliflower ear so to take steps to prevent it.
Cauliflower ear in dogs is not something you hear much about, but if you are into wrestling or boxing, you are likely familiar with the cauliflower ear syndrome, where the ear changes its shape and look because of the repeated hits and blows.
However, you should also be familiar with the cauliflower ear issue if you are a dog parent. This is because just like boxers and wrestlers, dogs get cauliflower ears too (just not for the same reasons).
In this article, we will discuss what cauliflower ear is in dogs, how dogs get it and how it got the name. 
We will then go into detail on aural hematomas, their causes, and risk factors. Finally, we will explain the treatment options and consider some prevention methods.
What is Cauliflower Ear in Dogs?
Cauliflower ear, is a complication that may occur when dogs develop an" aural hematoma." 
An aural hematoma is a condition that manifests with an accumulation of blood, serum, and blood clots in the ear flap, between the skin and cartilage.
As the blood keeps accumulating, the ear swells and looks like a water balloon. This swelling can turn to be painful, and left untreated, can progress to severe scarring and shriveling of the ear (hence the term cauliflower ear). 
Other than being unsightly to see, excess scarring can close the ear canal and lead to permanent damage to the ear tissues.
Causes of Cauliflower Ear in Dogs 
Cauliflower ear occurs as a result of an untreated aural hematoma. An aural hematoma occurs when the small blood vessels that nourish the dog's ear structures become damaged (often as a result of excessive head shaking and scratching) and consequently start leaking blood. 
The condition is more likely to occur in dogs with chronic ear problems, long and droopy ears, and blood clotting disorders. 
There is a theory that all conditions that result in excessive head shaking can be cauliflower ear triggers. Common examples include:
• Ear infections – all forms of ear infections (otitis externa, media, and interna)
• Foreign bodies – usually lodged grass blades and foxtail
• Ear mites – these cause itchiness, which may result in head shaking
• Allergies – food and seasonal allergies are accompanied by ear inflammation
• Ticks – they often attach at the base of the ear and cause discomfort
• Insect bites – based on where you live fly or mosquito bites
• Bite wounds – dogs usually bite each others' ears even when playing
• Autoimmune conditions – this theory lacks adequate scientific backup.
Signs of Cauliflower Ear in Dogs 
Dogs with an aural hematoma and consequent complication of cauliflower ear often have a history of exhibiting the following signs and symptoms:
• Vigorous head shaking
• Aggressive ear scratching
• Head tilting (to the affected side)
• Swollen pinna (water-balloon look)
• Pawing at the ear
• Pain upon touch
If your dog shows one or more of these signs and symptoms, a trip to the vet's office is necessary. The veterinarian will be able to diagnose the dog just by looking and touching the swollen ear flap. 
Treatment of Aural Hematomas in Dogs 
Cauliflower ear can be a confusing complication, and there are many misconceptions about its occurrence and treatment options. These are the two biggest dilemmas and frequently asked questions.
 1: Can An Aural Hematoma Heal on its Own?
This is a logical question. Namely, we already explained that an aural hematoma is a pocket filled with blood, which means that, over time, it can heal on its own like all blood blisters and bruises. However, this is not without consequences. 
Firstly, aural hematomas are extremely painful. The dog's ears are rich in nerve endings and they are a sensitive body part. Therefore, it is inhumane to let a dog with an aural hematoma heal without treatment.
Secondly, left untreated, cauliflower ear will likely ensue as a complication and this can lead to permanent damage to the ear tissues.
 Sometimes the scarring makes it difficult for dog owners to clean the ears and in severe cases it may end up closing the ear canal. 
Not to mention, the cosmetic aspect. Cauliflower ears are not pleasant to see and the cauliflower-like appearance of the ear is irreversible.
2: Is it Possible to Simply Drain the Blood?
Yes, it is possible to simply drain the accumulated blood of an aural hematoma using a wide-gauge needle and a syringe. However, this is just a temporary solution – the hematoma will come back within a day or two.
Draining the blood is not a real treatment option – it is just a management technique. However, the vet may recommend simple draining on rare occasions.
For example, drainage is the only option for dogs that cannot be medically treated (because of an underlying condition that prevents the use of corticosteroids) and in dogs that are high-risk anesthesia candidates.
4 Aural Hematoma Treatment Options 
With the essence of aural hematoma treatment emphasized and the drawbacks of simple drainage explained, it is time we go through the valid treatment options.
 Basically, there are four options, and which one is best depends on the case and is ultimately something you need to discuss with your trusted veterinarian.
Treatment Option 1: Teat Cannula/Vacutainer
This is a modification of the simple drainage procedure. After the blood is evacuated using a needle and syringe, the vet inserts a teat cannula or vacutainer and puts a bandage that will hold the inserted cannula/vacutainer in place.
The goal is to prevent re-fills in the first few days after the drainage. However, not all dogs are collaborative, and if the vacutainer fills quickly, you will therefore have to make frequent trips to the vet's or make the changes yourself (which can be tricky).
Pros:
• Does not require anesthesia
• Better prognosis than simple draining
Cons:
• Uncomfortable

Why is My Dog Licking My Ears?
Dogs lick your ears because they must find the activity somewhat reinforcing. Discover several possible reasons behind this " ear fascination" in dogs.
Do All Dogs Have an Occiput?
Whether all dogs have an occiput is something that many dog owners may be wondering about. Yes, we're talking about that prominent bump on a dog's head.
• Dogs do not tolerate it well
Treatment Option 2: Medical Intervention
The draining part is the same as in the previous approach. However, in this case, after evacuating the accumulated blood, the vet injects a medication (long-acting corticosteroid) into the empty pocket. 
The corticosteroid should be able to prevent future accumulations.
Pros:
• Simple and quick procedure
• Non-invasive approach
Cons:
• Only 50% chances of success
• Re-fillings are likely
Treatment option 3: Surgical Intervention
If you have already tried the previous approaches and they did not work, the vet will recommend surgical correction. 
The surgery includes making a relatively long and wide incision and thorough removal of the accumulated blood.
Considering the size of the incision, the vet will also be able to remove all blood clots. Then, the vet literally quilts the ear with sutures which are kept for at least three weeks. 
During the recovery period, the dog needs to wear an Elizabethan collar.
Pros:
• Low risk of re-filling
• More permanent solution
Cons:
• Invasive procedure
• Possible ear scarring
Treatment Option 4: Holistic Intervention
Holistic treatment approaches have been taking the pet world by storm. More and more pet owners are looking for natural remedies and seeking help from holistic veterinarians. 
Luckily, there are several holistic options for managing cauliflower ears in dogs:
• Yunnan Baiyao –often used to manage spleen cancer in dogs is a Chinese medicine given in doses of 250 mg per 20 pounds of body weight once or twice per day.
• Yarrow – when topically applied, yarrow oil strengthens the external walls of the capillary vessels.
• Homeopathic remedies – homeopathy medications like Arnica montana 30C or Hamamelis 30C can be used to manage non-complicated ear hematomas.
• Witch Hazel – features strong astringent powers which prevent leakage from weak and inflamed blood vessels.
• Veterinary leeches – this may seem gross, but it is pretty efficient. Plus, the medical leeches are FDA-approved and available online.
These holistic treatment options have shown excellent results. However, it is highly advised to talk to your holistic veterinarian before giving them a try.
 Also, if they do not work after a couple of days, you should consult with your regular vet about medical or surgical treatments.
Pros:
• Non-invasive
• Performed at-home
Cons:
• Re-fillings are possible
• Not suited for large hematomas
How to Prevent Cauliflower Ear in Dogs 
To prevent cauliflower ear in your dog, you need to prevent him or her from getting an aural hematoma in the first place. You can definitely minimize your dog's risk by focusing on underlying issues and risk factors. Let's take a closer look at the different prevention tips.
Prevention Tip 1: Clean the Ears
Keeping your dog's ears clean is critical for preventing ear infections (bacterial and fungal) and ear mite infestations. Talk to your vet in terms of ear care products and cleaning solutions.
Prevention Tip 2: Foreign Body Check-ups
It is advisable to check your dog for attached foxtails or dry grass blades after each walk. While checking for foreign bodies, you will also be checking for newly attached ticks and other external parasites.
Prevention Tip 3: Parasite Preventives
It is paramount to keep your dog up-to-date on flea and tick preventives. These external parasites can do much more severe complications than cauliflower ear as they transmit potentially fatal diseases.
Prevention Tip 4: Allergy Management
Food and seasonal allergies in dogs are widespread issues. Allergies usually trigger ear inflammations which, if left untreated, can lead to hematomas and potential  cauliflower ear development. It is therefore essential to manage your dog's allergies properly.
The Bottom Line 
Aural hematomas and their associated complication, cauliflower ear, is more than an aesthetic nuisance – it is a painful condition that can lead to severe complications and permanent ear disfiguration unless promptly treated.
There is no one-fits-all treatment approach - there are several vet-approved options, and each has its pros and cons. 
It is highly advisable to talk to your trusted veterinarian so you can make an educated decision on which treatment is best for your dog's painful ear condition.