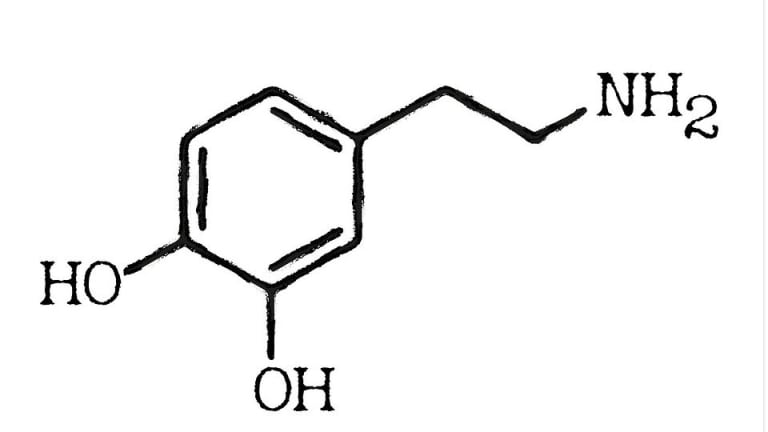 What Does Dopamine Do to Dogs?
Knowing what dopamine does to dogs can help you better understand your dog and how this chemical impacts his life. As you discover how dopamine impacts your dog's life, you will also come to discover how it impact yours. Yes, we are all impacted by this neurotransmitter, and actually as you are reading this you will have a small surge of dopamine release!
Discovering what dopamine does to dogs can help you better understand what happens to your dog internally under certain conditions. 
Brain chemistry is an intriguing topic and there are always new findings that enrich our knowledge about how the environment impacts our dogs internally. 
A Guide to Dopamine in a Nut Shell
Dopamine was first "discovered" in 1958 by Arvid Carlsson and Nils-Ake Hillarp at the National Heart Institute of Sweden. 
Dopamine is a neurotransmitter, basically a chemical messenger which relays information between neurons and special target cells which are found throughout the body (glands, muscles, or other neurons). 
For a classical example, dopamine is used when the brain sends information to the muscles in order to make them move. Indeed, in subjects affected by Parkinson's disease, it is a loss of dopamine-producing cells that causes difficulty walking, and other issues with movement.
On top of making muscles move, dopamine is also responsible for sleeping, mood, attention and motivation. 
Dopamine is produced by two main brain areas: the substantia nigra and the ventral tegmental area.
The Feel Good Neurotransmitter 
Dopamine is known for triggering a sensation of wellbeing. For example, when a dog who loves to retrieve is playing fetch, dopamine is released in the pleasure center of the brain and the dog feels "happy." 
For a good reason, dopamine is often described as being the "feel good neurotransmitter." The right amount of dopamine paves the path to learning and productivity and contributes to feelings of alertness, focus, motivation and and happiness. 
Recent research has demonstrated that dopamine release is more about the seeking system than the actual reward. 
Motivation to Seek Rewards 
Dopamine is also released when your dog is expecting a reward. If your dog enjoys clicker training or brain games, just the mere anticipation of these activities (the sight of the clicker, preparation of a brain game) is sufficient enough to raise the "seeking system" of the brain. This is vital to a dog's mental wellbeing as their bodies and minds were designed for seeking.
It is therefore dopamine that motivates us to want to go exploring in search of a reward. We see this happen to us when we are walking and go off the beaten path discovering a new lovely trail or when we are playing a video game and we unlock a whole new world or when we are on social media and are learning a lot of cool things about our friends. 
When your dog engages in the desired activity, the surge of dopamine reinforces the anticipation and focus on satisfying the urge to engage in the activity in the future. It's all a cycle of anticipation, reward and reinforcement. 
The "Thrill of the Hunt "
I will never forget the day my male Rottweiler discovered that a lizard lived right under a rock in front of our home. He eagerly chased the lizard, whining as he was sniffing around to let us know about his excited finding.
After this single instance, every single day after going on a walk, he would rush to this area to see if his "lizard friend" was out basking in the sun. 
He didn't get to chase the lizard every time, but he was always eager to get there and check things out. I chalked it up back then to just plain hunting instincts, but what was happening inside his brain?
Turns out, animal studies have suggested that increased dopamine levels in the brain occur in anticipation of a reward. "
"Dopamine is about the anticipation of pleasure, it's about the pursuit of happiness rather than happiness itself" says Robert Sapolsky in a presentation.  So turns out it's more about the "thrill of the hunt" as my Rottweiler had demonstrated. 

Do Dogs Like Salty Skin?
Whether dogs like salty skin is something many dog owners may wonder about. Until dogs can talk, we can only make some assumptions. Discover what we know so far.
Where is the Stop on a Dog's Head?
If you're looking for the stop on a dog's head, you'll need to look at the head correctly and have a dog breed blessed with this feature.
Activating the Dog's Seeking System
When dogs are engaged in brain games or are offered food puzzles, or when we allow them to sniff and explore on walks, we are engaging the seeking system of the dog's brain. This is vital to their mental wellbeing as their bodies and minds were designed for seeking. 
It is therefore dopamine that motivates us to want to go exploring in search of a reward. 
We see this happen to us when we are walking and go off the beaten path and discover a new lovely trail or when we playing a video game and we unlock a whole new world or when we go shopping and feel thrilled as we search for a super great deal.
Fun fact: Even as you are reading this and discovering more cool facts about dogs, your dopamine levels are likely triggered, giving you a rush of motivation in learning more and more!
The Dopamine Seeking-Reward Loop
What do social media platforms like Facebook, Snapchat, and Instagram have to do with slot machines and drug addictions? They activate the dopamine seeking-reward loop, which is what makes you so dependent. 
 Don't think you're addicted to your phone? Raise your hand if you ever experienced a semi-panic attack that day you couldn't find it!
Dopamine and Intermittent Reinforcement in Dog Training
Sure, dogs don't have our manual dexterity to swipe, smash a "Like" button and subscribe, nor do they care about who's the latest star on TikTok, but they too can get caught into a cycle of motivation, reward, and reinforcement. 
In a dog training example, every time your dog is rewarded for something, for example every time he is sitting nicely a bit of dopamine is released. 
Further dopamine is released with the use of variable rewards where the trainer provides rewards sometimes yes and sometimes no. Giving a reward, following a behavior, in an intermittent fashion, causes a dog who was previously rewarded for every single behavior, to be always on his toes, working harder and guessing with great anticipation when the next treat will come next. 
This is similar to what happens when us humans are playing the slot machines, where the right balance between positive and negative outcomes is necessary in order to keep you playing.
In these instances, dopamine levels go up through the roof. Why? Because nothing fuels dopamine release like the "maybe" of intermittent reinforcement, the uncertainty of "maybe yes, maybe no," explains Sapolsky in his book: "Behave, The Biology of Humans at Our Best and Worst."
Dopamine Affects The Human Side of Dog Training Too!
When you are training a dog, it is easy to get carried away. So much so that you may end up demolishing everything just because of the dopamine surge. 
Picture this: one moment you are there training your dog, and the next, you get this big spike in dopamine as you're watching your dog succeed. Next thing you know, you have your dog perform another behavior "just one more time."
This is when things start falling apart. You have become victim of what certified professional dog trainer Ayoka Bubar calls " 'just-one-more-itis.' She shares a variety of methods to combat this trap in her blog. 
Did you know? A recently discovered theory, known as the "baby schema effect" firstly proposed by ethologist Konrad Lorenz, found that a release of the chemicals dopamine and oxytocin is triggered in the human brain when humans look at babies or puppies due to their neoteny traits and similar chemicals are released when we fall in love. 
References:
S. Flagel et al., "A Selective Role for Dopamine in Stimulus-Reward Learning," Nat 469 (2011): 53; K. Burke et al., "The Role of the Orbitofrontal Cortex in the Pursuit of Happiness and More Specific Rewards," Nat 454 (2008): 340.
Behave, The Biology of Humans at Our Best and Worst – Robert M. Sapolsky
National Geographic: This Is Your Brain on Puppy Pictures