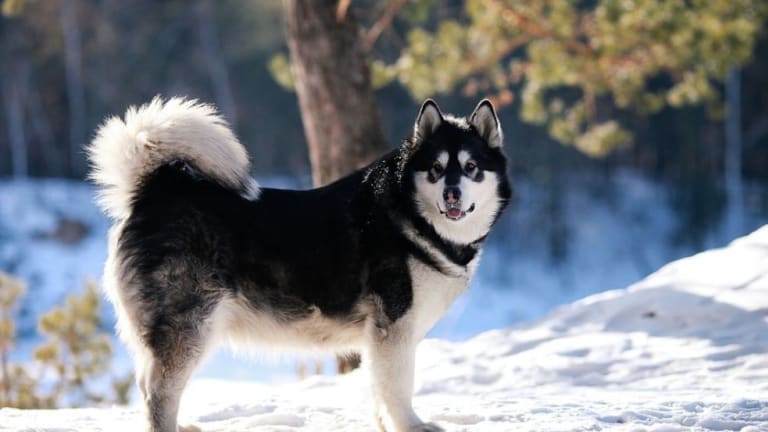 What are Snowshoe Feet in Dogs?
So what are snowshoe feet in dogs, and most of all, what is their primary function? Our references state that only certain breeds have this type of specialized feet and that they're purposely crafted in such a way as to make walking on snow much easier.
Snowshoe feet in dogs may sound like a very peculiar trait. Interestingly, when it comes to thriving in a certain habitat, Mother Nature makes sure that animals are blessed with certain adaptations to help them live well within their home environment.
 Believe it or not, the way feet are structured can help make a great difference on how dogs walk on rough, winter terrains. 
Unlike us, who must purchase shoes based on what we are planning to do (hike, play soccer or go bowling) dogs come equipped with feet that are custom-tailored to meet all the demands that best suit their lives.
So let's discover exactly what are snowshoe feet in dogs.
What are Snowshoe Feet in Dogs?
Snowshoe feet in dogs are compact oval feet with well-arched toes and fur between them. These feet offer several advantages that are similar to those provide by the characteristic footwear that humans wear when walking over snow. 
No More Sinking
Most of us are familiar with snowshoes, those specialized shoes crafted for human use. This footwear is built in such a way as to allow people to walk over snow without sinking into it, a quality known as "flotation."
To prevent sinking in the snow, the snowshoe distributes the person's weight over a larger area. The snowshoes are also built in such as way as to not accumulate snow as people walk.
Snowshoes are believed to have been invented anywhere from 4,000 to 6,000 years ago. Before the development of snowshoes though, Mother Nature had gifted animals with special feet that made walking on the snow easy.
The snowshoe hare, as the name implies, evolved with over sized feet so he could move more efficiently over the snow.
It is therefore probable that the invention of human snowshoes were inspired by the hare's feet. 
Dog Breeds with Snowshoe Feet
Among dogs, a few dog breeds have snowshoe feet meant to help them navigate more efficiently through the snow fields. 

Different Types of Pain in Dogs
There are different types of pain in dogs and differentiating one from another can help you better understand your companion.
Just like snowshoes, their paws are large so to distribute their weight across a greater surface area, a quality that prevents them from sinking into the snow.
The breed standard for the Alaskan malamute calls for large, snowshoe feet with fur growing between the toes.
The Finnish lapphund, a northern type of dog bred to herd reindeer, is described by the American Kennel Club as being "well arched, oval rather than round, with toes slightly spread, to act as a snowshoe."
The Tibetan terrier breed standard calls for feet that are large, flat, and round in shape
producing a snowshoe effect that provides traction.
 The Samoyed's feet are described as being large, long, flattish, basically, a hare-like foot slightly spread but not splayed with toes arched thick, tough pads equipped with protective hair between the toes.
"The feet are of the snowshoe type, tight and deep, with well-cushioned pads, giving a firm, compact appearance. The feet are large, toes tight fitting and well arched. There is a protective growth of hair between the toes. The pads are thick and tough; toenails short and strong." American Kennel Club Alaskan Malamute breed standard.
The Function of Fur Between Dog Toes 
Interestingly, the fur between a dog's toes also offers an advantage when walking over snow. According to the book "Meet the Breeds: A Guide to More Than 200 AKC Breeds" edited by The American Kennel Club, the fur is there for protective purposes.
 That fur protects these dog's feet while pulling sleds over ice and snow. However, that same fur that helps these dogs in arctic habitats may cause problems in domestic settings.
 Many owners report that hair between the toes makes some dogs prone to slipping when walking on tiles or hardwood floors.
References:
American Kennel Club, Finish Lapphund standard, retrieved from the web on February 23rd, 2016.
American Kennel Club, Glossary, retrieved from the web on February 23rd, 2016.
"Meet the Breeds: A Guide to More Than 200 AKC Breeds" edited by The American Kennel Club, i5 Press; 5 edition (February 16, 2016)