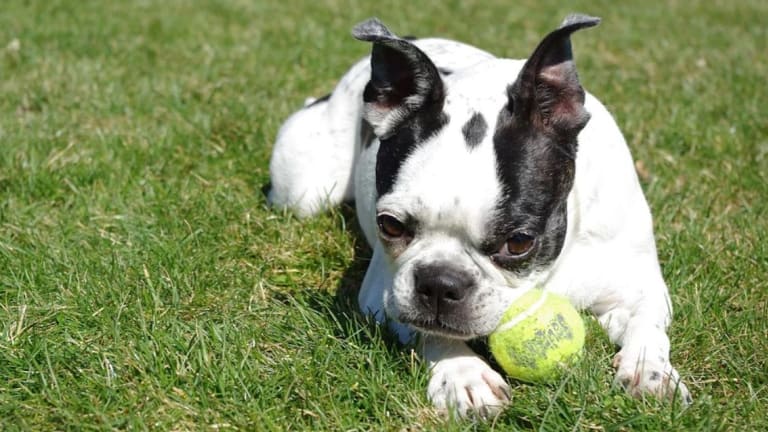 Discovering The Haggerty Dot in Boston Terriers
The Haggerty dog in Boston terriers is an intriguing trait that is unique to this breed. Discover more about this interesting facial marking.
The Haggerty dog in Boston terriers is something you may be interested in learning more about.
Interestingly it's something that is not found in all Boston terriers, but only on a few. 
Interestingly, this spot can be indicative of belonging to a particular breeding line of Boston terriers. 
Discover more about Haggerty dots in Boston terriers. 
What is a Haggerty Dog in Boston Terriers?
The "Haggerty Dot" is a little circle of dark hair found on top of the head in the middle of a Boston terrier's white blaze.
Other names for this spot include "Haggerty spot," or "Haggerty star. " Some even call it "Angel Kiss."
Below you can see a drawing of a Boston terrier with a Haggerty dot. 
What Does the Presence of a Haggerty Dot Mean in Dogs?
According to the Boston Terrier Club of America, dogs with this marking are descendants of one of the original lines of Boston terriers owned by the Haggerty family in the early 1900s.
Many of their specimens displayed this characteristic dot, therefore this become a distinguishing feature of their breeding stock. 
 This marking therefore quickly became synonymous with this line of Bostons, so in honor of the Haggerty family, this dot has been named Haggerty dot. 

Different Types of Pain in Dogs
There are different types of pain in dogs and differentiating one from another can help you better understand your companion.
While it's true that most lines of Boston terriers ultimately descend from Haggerty stock, this trait tends to pop up every now and then. 
What are the Markings For a Boston Terrier?
According to the American Kennel Club, Boston terriers may come in brindle, seal, or black with white markings.
 As to markings, Bostons should present with a white muzzle band, white blaze between the eyes, white forechest.
 Although the Haggerty spot is not specifically mentioned in the breed standard, it is considered a characteristic.
Do Boston Terrier Markings Change?
After being born, it is possible for some markings to change in a couple of weeks.
The change can be minimal to more substantial in some cases.
It's nor unheard of for some Boston terrier pups to show a Haggerty dot that later on disappears as they develop.
Boston Terriers are The American Gentle Man!
Did you know? Boston terriers are American almost as much as Boston Cream Pie. Originally bred in England, but stabilized in the USA, (as you may imagine in Boston), the Boston terrier dog breed was accepted by the American Kennel Club in 1893.
This makes the Boston terrier the first US dog breed to be recognized by the AKC. 
Their American Gentleman nickname was therefore granted courtesy of their American heritage coupled with their formal, tuxedo-like markings and reputation for being a very gentle dog!