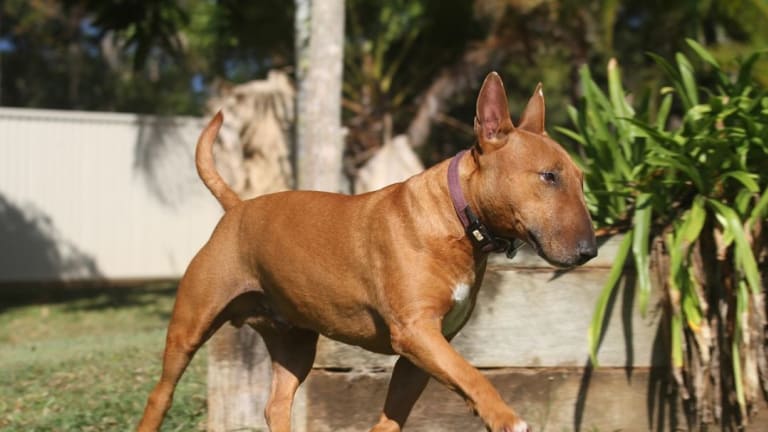 Discovering 5 Dog Muscular System Facts
Your dog's muscular system is a fascinating work of art that is worthy of discovering. Not only will you discover fascinating facts about your dog's muscles, but also some interesting facts about your own muscles because dog muscles and human muscles share several commonalities.
Introducing your dog's muscular system, Mother Nature's work of art courtesy of centuries of evolution combined with the later selective breeding courtesy of humans. 
The muscular system is often taken for granted, but it's ultimately what allows your dog's body to move. Your dog's muscles after all, are necessary for big and little movements, from the slightest blink of an eye to a dog's more obvious running after a thrown stick. 
Discovering more about your dog's muscular system can therefore reveal more about your furry friend, allowing you to better understand how his body works and what you can do to support this very important system. 
1) Dogs Have Three Types of Muscles 
Both you and your dog are blessed with three different types of muscles, namely the smooth muscles, the skeletal muscles and the cardiac muscles. Let's take a closer look at all three of them. 
The smooth muscles are muscles that are not under your dog's control, but fall under the control of your dog's autonomic nervous system. These muscles therefore work without your dog consciously thinking about making them move. 
Smooth muscles therefore comprise all the involuntary muscles of your dog's body such as the muscles in your dog's stomach, intestines and bladder. 
The skeletal muscles, as the name implies, comprise all the muscles attached to bones. These muscles are under your dog's voluntary control, meaning that he consciously thinks about making them move. 
Skeletal muscles, also known as striated muscles, therefore comprise the muscles of your dog's legs, jaws, ears, tail, eyes and more. 
The cardiac muscles, as the name implies, are the muscles in your dog's heart. These are also involuntary muscles. 
2) Some Dogs Have Fast Twitch Muscle Fibers 
Your dog's muscles are made of special cells, known as muscle fibers.
 In particular, sprinting dog breeds such as greyhounds and whippets, which are known for their speed, have a high proportion of "fast" twitch muscle fibers. These special muscle fibers do not need oxygen to work and allows these dogs to obtain brief bursts of great speed.
On the other hand, dogs built for endurance such as huskies and retrievers, have a higher proportion of so-called "slow" twitch fibers. These special fibers do need oxygen to work and allow these dogs to keep running for longer.

According to a study, a Greyhound leg muscles contained mainly 80 to 100 percent fast-twitch muscle and a few slow twitch fibers, whereas mixed breed dogs leg muscles contained 20 to 100 percent of slow-twitch fibers. 
The ratio of fast twitch muscle fibers and slow twitch muscle fibers is genetically inherited. Selective breeding for sprinting or endurance can therefore impact their ratio.
3) The Evolution of a Dog's Facial Muscles 
 Interestingly, it appears that dogs move their eyebrows specifically for a human audience. 
According to a study conducted by Julian Kaminski, dogs appear to exhibit more  movements of their facial muscles when humans are facing them compared to when when they are turned away. 
In particular, dogs were likely to raise their inner eyebrow and show out their tongues. They were also more likely to vocalize in presence of humans as well. 
Previous research by Waller et al. had found that upper facial muscle contractions in dogs caused dogs to raise their eyebrows, causing their eyes to appear bigger and more infant-like. 
Large eyes in puppies and dogs have been associated with cuteness which pulls at any dog lover's heartstrings. 

Different Types of Pain in Dogs
There are different types of pain in dogs and differentiating one from another can help you better understand your companion.
The research indeed showed that, the more often dogs made facial movements that resulted in raising their inner eyebrows, the quicker dogs were rehomed.
 This makes one wonder whether dogs have learned to use their facial expressions as a way of getting what they want (human attention) or whether this is just a trait that dogs have been selectively bred for throughout the years. 
Intrigued? Discover more on why dogs move their eyebrows.
Did you know? Studies show that dogs are blessed with the "levator anguli oculi medialis," a special muscle responsible for raising the inner eyebrow, while wolves are not.
Movement of this facial muscle causes a dog's eyes to appear bigger, hence more infant-like, therefore its appearance in dogs may trigger a strong nurturing response.
 Interestingly, the only dog breed lacking the levator anguli oculi medialis is the Siberian husky which is an ancient dog breed.
4) Muscle Mutations in Bully Whippets
Hypertrophy is a medical word used to depict excessive growth. Affected individuals are characterized by larger than average muscles, minimal body fat and increased levels of strength.
Mutations in the normal functionality of myostatin, a protein responsible for regulating muscle growth, ensuring that muscles do not grow too large, may lead to what's know as "myostatin-related muscle hypertrophy."
In humans, this is not unheard of. A myostatin-deficient German boy went on to develop excessively muscular arms and thighs. The blocked production of myostatin gave life to this "baby Superman" with bulging arm and leg muscles. twice the size of other kids his age.
Among dogs, a similar mutation occurrence was observed in whippets, leading to the so-called "bully whippets." Bully whippets have out-of-the-ordinary bulky muscles and therefore are not suitable for racing. 
"Wendy the Whippet" was a popular version of "the Arnold Schwarzenegger of dogs." The genetic mutation caused her to be double-muscled and twice the weight of an average whippet.
5) Old Dogs Suffer From Loss of Muscle Mass
Sarcopenia, is the medical term used to depict loss of lean body mass due to aging. Large dogs become generally senior anywhere between the ages of 6 to 8 years while small breed dogs are considered senior from the age of 10. 
With more and more dogs living longer, it is expected to see more and more loss of muscle mass. However, this type of muscular atrophy is not something to ignore.
 Research has found that loss of muscle mass has been associated with reduced quality of life and increased risks for disability and mortality. This means that, it's important addressing sarcopenia in dogs.
While there is no single therapy that has proven to effectively address muscle loss associated with aging in dogs, a multimodal approach including nutritional and exercise therapies has proven promising in improving a senior dog's overall quality of life, points out board-certified veterinary nutritionist Dr. D. Hutchinson, in an article for Veterinary Information Network.
References:
Evolution of facial muscle anatomy in dogs Juliane Kaminski, Bridget M. Waller, Rui Diogo, Adam Hartstone-Rose, Anne M. Burrows Proceedings of the National Academy of Sciences Jul 2019, 116 (29) 14677-14681; DOI: 10.1073/pnas.1820653116
Veterinary Information Network, Muscle Matters in the Geriatric CKD Pet: Working Against the Clock World Small Animal Veterinary Association Congress Proceedings, 2017
PLOS genetics "A Mutation in the Myostatin Gene Increases Muscle Mass and Enhances Racing Performance in Heterozygote Dogs" 2007, by Dana S. Mosher1, Pascale Quignon1, Carlos D. Bustamante2, Nathan B. Sutter1, Cathryn S. Mellersh3, Heidi G. Parker1, Elaine A. Ostrander