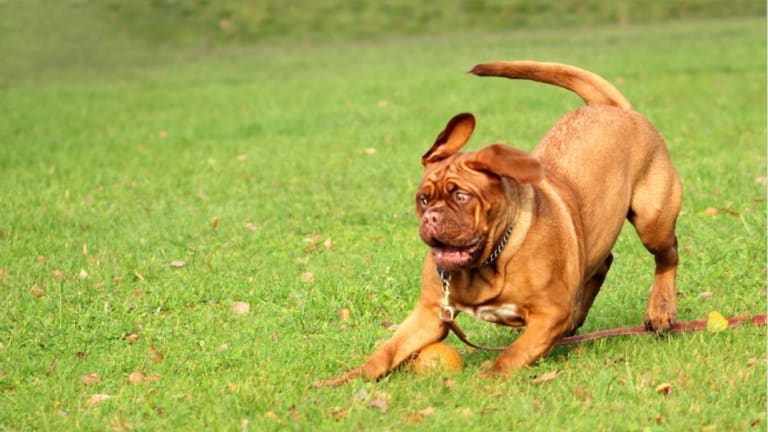 Discovering Why Dogs Keep Their Mouths Open When Playing
Many dogs keep their mouths open when playing and dog owners may wonder all about this doggy facial expression and what it denotes. In order to better understand this particular behavior, it helps taking a closer look into how dogs communicate with each other and the underlying function of the behavior.
Introducing the "play face," a facial expression often seen in dogs in particular when they are happy and in the mood for play. 
Yup, you guessed it, the "play face" is the name attached to that facial expression you often see in dogs, when they are opening their mouth when playing. 
This behavior is common among canines and well socialized dogs are well adept in interpreting its meaning and therefore react to it accordingly. 
Dog who aren't well socialized though may sometimes perceive it as intimidating, especially when accompanied by heavy panting which may be interpreted as a hyper arousal, or in some cases, a soft growl.
The play face though is not the only reason why dogs open their mouth when playing. You have other sorts of dynamics and types of play going on, so let's discover more about them!
Discovering the "Play Face" in Dogs 
The "play face" in dogs is a typical facial expression that is used to denote an intention for play. What are the main characteristics of a dog's play face? Here are some of them.
Firstly, when dogs play, they typically display a relaxed body posture and face. The tail is often lowered slightly and may be wagging while the dog lowers his body in a typical play bow, with the front legs lowered and the rump in the air. 
As the dog engages in play, he display a rocking-horse gait that is loose and bouncy.
If we look at the face, the dog's facial muscle aren't tense. Rather, the facial muscles are relaxed and appear overall quite pliable with very loose dog flews. 
On top of this, the mouth is slightly opened, the tongue rests over the  bottom teeth, lips are pulled back horizontally and the ears may be pinned-back or erect while the dog displays a wiggly butt, waiting in anticipation for a response.
Many describe the play face in dogs, as the display of a "goofy open-mouthed smile."
Introducing the "Play Pant" in Dogs
On top of a play face, dogs may also add some auditory sounds. Back in 1975,  Owen Aldis in the book: "Play Fighting," described the play pant as a form of "laughing" that was different from the panting sound dogs typically make when they are hot or tired. Fox in 1975 agreed on such findings. 
In 2005, Patricia Simonet conducted further research on this particular sound. "To an untrained human ear, it sounds much like a pant, 'hhuh, hhuh,'" however, this exhalation bursts into a broader range of frequencies than does regular dog panting," pointed out Simonet in an article for Science News in 2001.
Interestingly, Simonet played the recordings of dogs play panting on loudspeakers in an experiment on puppies with astounding results. The sound prompted the puppies to pick up a toy or trot towards a presumed playmate. 
Later on, Simonet played the recordings in shelters and discovered that it helped calm the dogs down and increased their rate of adoptions.
Simonet also noticed how, when she imitated the play pant, dogs seemed to respond to it in a positive way.
Marc Bekoff of the University of Colorado in Boulder, confirms what Simonet described. He claims: "When I get down on all fours and go up to dogs and go 'hhuhahhuhahhuh,' they get very solicitous."
Possibly, the play pant originated as a form of panting from a physiological state of emotional-autonomic arousal, evolving into a specific signal.
 Indeed, if one pants at a dog he becomes highly aroused and may bark and solicit play or he may withdraw at the incongruity, suggests Fox in the book: "Behaviour of Wolves Dogs and Related Canids."
A Game of "Bitey Face"
Many dogs enjoy rough-looking games where the dogs keep their mouths open widely and attempt to bite each other. Often, the bites are aimed towards each others faces and necks.
Some snapping, open mouth lunging and growling may take place too and sometimes new dog owners may be concerned about this type of play when they witness it the first times. 
This is not surprising. After all, if you were to capture a picture during this type of play you would likely get some wild looking faces and those jaws opened wide may appear as if the dogs were trying to kill each other!
 No matter how vicious this type of play looks and sounds though, most often dogs are just having loads of fun. As long as this form of interaction takes place between socialized, friendly dogs it is quite harmless.
"Dogs who know each other well are far more likely to engage in rougher play than two canine strangers," pointed out the late dog trainer Leah Roberts in an article on Dog Start Daily. 
The Joy of Jaw Wrestling 
Joy wrestling also known as "jaw sparring" takes place when two dogs "wrestle" using their open mouths and making funny sounding vocalizations. It is not unusual to also hear the dogs' teeth clacking and the muzzles clashing. 
Jaw wrestling is often seen when dogs are getting a bit tired, and therefore, the dogs are often laying down side-by-side or sitting when engaging in this behavior. Dogs may also jaw wrestle though when standing.
The game consists mainly of the dogs delivering or avoiding playful bites, therefore, a good level of bite inhibition is needed. 
It is one of the most fun types of play to watch both for the jaw acrobatics and silly "Chewbacca-like" noises dogs emit. 
Now That You Know...
As seen dogs have their own good reasons for opening their mouths when playing. Whether the open mouth is used for a bitey face game or a match in jaw wrestling, one thing is almost for sure: it can look scary! 
Friendly, well-socialized dogs though are masters in using body language to communicate that, despite all the scary mouth displays and threatening noises, it's all part of play and not meant to be taken seriously.
This is all accomplished courtesy of metacommunication. Metacommunication in dogs play is a secondary form of communication meant to differentiate the smaller subtleties in communication that can make a world of difference.
You'll therefore see play bows, bouncy body movements, play faces, play panting and rocking-chair gaits meant to emphasize that nothing is meant to be taken seriously. These are all normal signs of healthy dog play. 
Exceptions to the Rules
Of course, not all dogs and not all interactions are created equally. You may therefore sometimes stumble on dogs who are bad communicators or bad interpreters due to poor socialization or negative past experiences. 
Even a dog who was always friendly and playful may one day react out of character, because he's not feeling well or may have endured a stressful event. 
If you have ever doubts on whether your dogs are playing normally or things appear to be getting sour, consult with a dog behavior professional such as a dog trainer specializing in dog behavior or better, a board-certified veterinary behaviorist (DACVB) or a Certified Applied Animal Behaviorist (CAAB).
In the meanwhile, keep your dog away from other dogs and therefore don't allow play until the professional can provide an evaluation and further instructions.