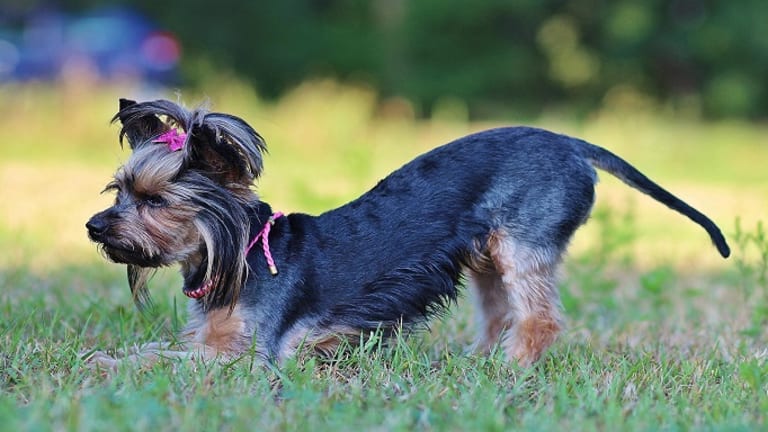 Play Bow Versus Prey Bow in Dogs: Can You Spot The Differences?
Knowing the difference between a play bow and a prey bow in dogs can help you better understand your canine companion. After all, not all bows in dogs are created equally. There are bows and bows in the dog world!
Play bow versus a prey bow, can you spot the differences? After all, not all bows in the doggy world are created equally.
Knowing the difference between the two can make you a better owner as you learn to pay attention to the slightest nuances in your dog's body language. 
Once you can tell them apart, you'll be better informed on what to expect next, and while you are at it, you can also brag about this little new nugget of knowledge at the dog park!
What is a Play Bow in Dogs?
A play bow is simply your dog's way to communicate friendly intentions to his canine pals. But what is the exact function of this behavior? What message does it convey? And how do other dogs respond to it?
Recent research by Byosiere et al. has unveiled several interesting findings about the play bow. For instance, it has been found that dogs usually stop playing before making this gesture, and then resume playing right afterward. 
The play bow therefore acts as a signal to resume play. Right after its manifestation, indeed, both parties will often engage in a chase sequence. 
In order to be perceived well by the dog on the receiving end, it's important that the play bow gains visual attention. The bower and receiver of the signal should therefore be facing each other in the same direction. 
These results support Horowitz's' earlier hypothesis that play bows are an attention-getting strategy. When the dogs are not facing each other, other methods are used to gain attention such as vocalizations and physical touches. 
A play bow as its name implies is therefore a way to re-initiate play after a pause that refreshes before the next round. 
While more research is still needed, this current research provides a deeper insight into what we already knew. 
Did you know? A dog's bowing behavior after waking up from a nap is a ritualized behavior known as "pandiculation." This action pattern involves the dog stretching and contracting the muscles of his back and belly.

Discover 12 Official State Dogs
Did you know? There are 12 States that have designated an official State dog. Following are several States that have elected their own State Dog. Is your State one of them? Let's discover.
Can Humidity Cause Hot Spots in Dogs?
Knowing whether humidity causes hot spots in dogs is something important to consider. Perhaps you're thinking about moving to a very humid place, but you're wondering if your dog will be prone to this annoying skin condition
 The goal of pandiculation is to awaken the muscles in the back, including the extensors, which are responsible for  running and therefore may help a dog's performance. It's also known as "nature's reset button!"
 What is the Prey Bow in Dogs?
The first time I stumbled upon the term "prey bow" was when I was studying to become a certified dog trainer. Taking the test required a lot of knowledge so I made sure to read as many book on dogs as possible.
One of them was Brenda Aloff's book "Canine Body Language, A Photographic Guide." I must admit the first time I read about the prey bow, I thought there must have been a typo and the author meant to say "play bow." I never heard about a prey bow before!
 In this book Aloff describes a dog's prey bow as a dog being ready to spring into action. It's as if the dog was saying "ready, set go!"
You may therefore see a prey bow when the dog is getting ready to launch himself the moment you'll toss a Frisbee or when he spots some critter. The objective is for the dog to launch himself into chase.
Play Bow Versus Prey Bow in Dogs 
The main differences between the play bow and prey bow is the context in which it occurs. There are also some slight differences in the dog's body language. 
We see the play bow when dogs are playing and it often takes place when dogs are facing one other with eyes of dog doing the bowing directed at his play partner. It commonly takes place after a brief pause in play, and therefore, it's a way for dogs to reinitiate play. 
We see the prey bow when dogs are on the verge of launching themselves after something such as a ball or Frisbee. We also see it in play with other dogs. 
In the play bow, the dog's front legs are stretched out and lowered in such a way that the elbows are close to the ground and the rear is up in the air. The ears are also up, the mouth is partially opened (play face) and the lips are relaxed. The tail is lowered or down. 
In a prey bow, you'll notice the dog's body leaning backwards so to immediately spring forward, the tail is held up and the dog is fixated on the object of interest. The mouth is typically closed. The front of the body is lowered with the elbows near the ground, while the rump is in the air. You can notice the tension building up.